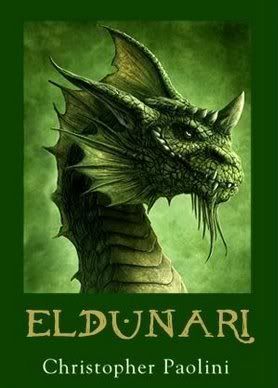 speculation cover by a fan
I remember when everyone first started speculating about the final book in the
Inheritance Cycle
by Christopher Paolini.
It had taken so long after
Eragon
for both
Eldest
and
Brisingr
to be released. Originally it was only going to be a trilogy, but the third and final book would have been about a foot thick.
I found this cover though google images and for a while wondered if it might be the real thing. It looked rather like the art of the cover designer for the previous books. However, in each of his cover designs for previous books he signed his name. This cover, no tag. So it couldn't be real.
It still got me excited!
Well, that was about a year or two ago and at the beginning of the month, the actual, final installment of the
Inheritance Cycle
released.
actual cover
It kind of sneaked up on me...I'm not very good with time to say the least.
A few weeks before I had been surprised to find it on the library's website for e-book checkout. Obviously it wasn't available yet, but I was able to put a hold on it...first in line!
Then another surprise: the book released at midnight so I figured I would be able to check out the e-book for my Kindle at midnight. But the release was midnight
on the east coast
. Yep, that meant I got to start reading at 9:00 on November 7th.
I was so excited, it was just crazy.
I think though, that little brother was even more excited than me! Since he usually gets the audiobook, and the only print copy we had was on my Kindle he was trying so hard to get me to read to him! I actually did end up reading to him, til my voice was gone in fact. The next few days were spent with me or my dad reading to him, until - surprise number 3 - the audio book was available for digital download from the library.
The final book was so well written, so well wrapped up. It was completely bittersweet to see the series end. Christopher Paolini has weaved such a story, created such a world it's...beautiful.
And the quotableness is an abundance.
So, to send off a great series, a wonderful legend, here are some of my favorite quotable quotes from
Inheritance
by Christopher Paolini.
You cannot predict every eventuality, and you cannot guarantee success every time you face an enemy, but by seeing all and discounting nothing, you may adapt without hesitation to any change.
The warrior who can adapt the easiest to the unexpected is the warrior who will live the longest.
Beware of the shadows
, Eragon.
Strange things lurk in dark places
,
It's impossible to go through life unscathed. Nor should you want to. By the hurts we accumulate, we measure our follies and our accomplishments.
Why does everything have to be so hard?
he wondered.
Because
said Saphira,
everyone wants to eat, but no one wants to be eaten.
If it's a girl,
name her something fierce
.
for more of The Inheritance Cycle head over to alagaesia.com
reading: the replacement by brenna yovanoff -- listening: buachaill on eirne by damian mcginty & celtic thunder