White Light
(entry version)
---
the bells toll
the sound ignites
the full moon
the snow
the nights scant light
the inky darkness
closing in
smothering
glowering
moving in
but suddenly
opened
blossomed
free
by snow
catching light
flying free
the snow burns
white
in the night
the quiet forest
the whispering trees
the cold wind
the chilly breeze
the crystal flakes
alight
aflash
the silent guardians
snow
angels
adrift in the night
to shed a small
scant
white light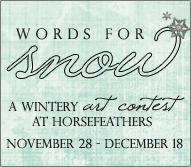 This is my entry for Olivia
(@HorseFeathers)
Words for Snow
winter art contest.
White Light
(original version)
---
the bells toll
the sound ignites
the full moon
the nights scant light
the inky darkness
closing in
smothering
glowering
moving in
the moon burns
white
in the
black
the silent forest
the whispering trees
the balmy wind
the chilly breeze
the shooting stars
alight
aflash
the silent guardians
adrift in the night
to shed a small
scant
white light
Interestingly enough, snow isn't the original premise of this poem.
When I originally wrote White Light, it was merely several lines long (whereas the entry version to the left is probably doubled in overall length) and was just a random throw-together of words that contradict each other (as you can read, to the right).
Hoping you're all having a wonderfully snowy winter!